Adios, Brad Tyer
NULL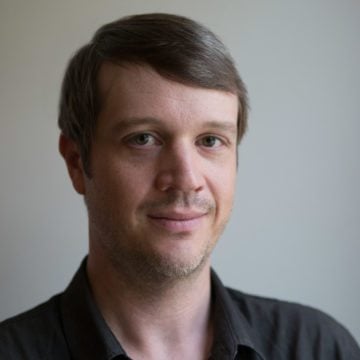 Today is managing editor Brad Tyer's last day at the Observer. He's been selected as a Knight Wallace Journalism Fellow, a prestigious program for mid-career journalists. We're happy for him but also a little sad. I'm especially sorry to see him go and not just because he did a kick-ass job editing the Arts & Culture section of the magazine.
Like me, Brad has a thing for rivers and we fast became canoeing and kayaking partners. It helps too that he's got awesome gear and isn't (too) wimpy about the Texas heat. Granted, we did more daydreaming than paddling but, hey, that's half the fun. We did manage, despite this damn drought, to hit the Colorado, San Marcos, Neches and South Llano Rivers. We're trying to get together a trip to the remote Devils River in West Texas.
On his first day at the Observer, Brad pulled up in front of the office with a canoe strapped to the top of his truck. He'd just returned to Texas after a long stint in Montana editing the Missoula Independent. And he looked the part of a Montanan – out-of-season flannel and outdoorsy get-up, the kind you find advertised in L.L. Bean catalogs. But Brad's a Texan at heart. His passion for rivers may only be superseded by his obsession with Texas BBQ and jerky.
There are plenty of river enthusiasts in this state but not many who can write intelligently about the deeper meaning of carp or make a review of a fieldbook on Texas water sound like a must-read. In Brad's last column, which will appear online and in print later this week, he brings it all back home, writing about the stretch of river, a patch of the Colorado near Columbus, he first fell for:
Naturalist Loren Eisley wrote, "If there is magic on this planet, it is contained in water," and it's magic that claims me on a river.

I saw it again Sunday. I drove through periodically heavy rains to get to the river and put in under grumbling clouds. As so many times before on that looping stretch, those clouds left open a pocket of sunshine, rimmed by heavy blue, that followed me downstream. Only once, on a broad, windy stretch near the end, did I drift beneath a gray wisp, and it rained on me lightly in bright sunlight, drops hitting the water at an angle, backlit and glistening. It was as magical, in that moment, as anything on the mighty Yarlung Tsangpo, or John Graves' history-soaked Brazos, or any river anywhere.

 Paddling in that rain, simple math began to seem like fuzzy abstraction, and magic—for the moment anyway—the natural state.